Fisher & Paykel E450RXFD 63.5cm Single Door Vertical Fridge (451L Stainless Steel Upright Refrigerator)
Price

RM6,900.00

RM7,800.00

Product SKU
E450RXFD
Brand
Fisher & Paykel
Availability
In Stock
Quantity
Description
Highlight
* FREE delivery within Peninsular Malaysia



FISHER & PAYKEL E450RXFD
63.5cm wide, ActiveSmart™ Single Door Vertical Refrigerator (Upright Fridge),
Stainless Steel Flat Door
This freestanding flat door stainless steel EzKleen surface refrigerator, Fisher & Paykel E450RXFD fridge has all the storage space you need to keep your food chilled, and this fridge can be paired with E88LXFD to give you a perfect solution for your requirement to frozen foods.

4 adjustable door shelves giving you the more storage options, easy access and customisation for a large array of bottle sizes.

Humidity-controlled crisper bins allow you to slides in each bin to create a microclimate that independently adjusts the humidity in order to help keep food fresher for a longer period.

5 adjustable glass shelves, allows you to conveniently adjust, organise the space in the fridge to provide wide-open and spacious maximum storage.
Specification:
Compartment volume:

Gross volume: 451 litres
Net storage: 424 litres



Performance features:

Air circulation fan
Adaptive defrost
Humidity control lid
Door alarm
Full width crisper bin
Halogen light
Front levelling feet
Rear rollers
Energy consumption: 338Wh /year
Energy rating: 2 stars
Door hinge: RIGHT hinge



Fridge compartment:

Adjustable door shelves: 4
Adjustable glass shelves: 5
Covered door shelves: 2
Fruit and vegetable bins: 1
Full-width door shelves: 3
Egg trays: 2



Dimensions:

Product Dimensions (mm): H1695 x W635 x D695
Adjustable Shelves
Enjoy added versatility in storage, with convenient shelve adjustment. This makes foods and dairy products easier to organise.


Design Quality.
Fisher & Paykel refrigerator built for quality design. This fridge using real stainless steel door that comes with EZKleen feature, provide anti-fingerprint coats that you can simply wipe clean to prevent permanent dirty marks on the surface.


Ergonomic And Simple Storage
This refrigerator is designed to make it simple for you to store, access and remove food. Storage bins give you full access inside when they're pulled open and can be easily removed to clean, plus the flexible shelving also gives you more storage options.


Humidity Control System.
Your fruit and vegetables need different environments. The humidity control slides in each storage bin create a perfect microclimate for each, which helps keep them fresher for longer.


Safe And Easy Cleaning
Secure and spill-safe glass shelving prevents drips and spills falling on the food below.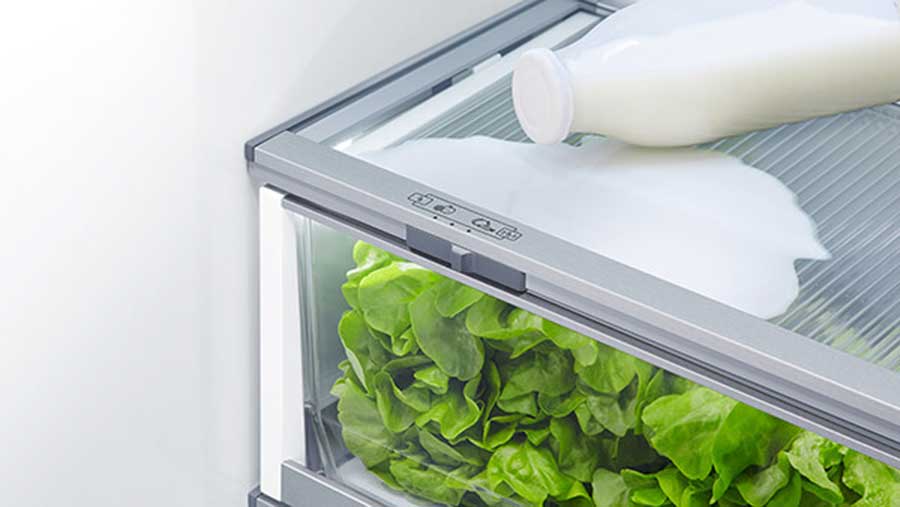 Reviews (0)
view all
back