Fisher & Paykel RF610ADUSX 90cm 3-Door Refrigerator (614L Stainless Steel French Door Fridge-Freezer)
Price

RM11,380.00

RM12,800.00

Product SKU
RF610ADUSX
Brand
Fisher & Paykel
Availability
In Stock
Quantity
Description
Highlight
* FREE delivery within Peninsular Malaysia



FISHER & PAYKEL RF610ADUSX
90cm wide, ActiveSmart™ French Door Fridge Freezer,
With Ice Maker & Water Dispenser - Stainless Steel Flat Door
This is one of the high on-demand Fisher & Paykel refrigerator models, the best American Style large capacity refrigerator in the market not only offers large flexible space with stylish Stainless Steel Flat Door finishing but to ensure you keep food fresher for a longer time.

ActiveSmart™ technology in this RF610ADUSX also can learn and understand how you use the fridge by adjusting the internal temperature, airflow, just by following your lifestyle in using the fridge, so you get to enjoy your favourite foods and drinks for a longer period!

6 adjustable door shelves giving you more storage options, easy access and customisation for a large array of bottle sizes.

Humidity-controlled crisper bins allow you to slides in each bin to create a microclimate that independently adjusts the humidity in order to help keep food fresher for a longer period.

3 adjustable glass shelves, allows you to conveniently adjust, organise the space in the fridge to provide wide-open and spacious maximum storage.
Specification:
Compartment volume: (Gross /Net)

Fridge volume: 433 /413 litres
Freezer volume: 181 /128 litres
Total volume: 614 /541 litres



Performance features:

ActiveSmart™ food care
Adaptive defrost
Bottle chill mode
Fast freeze mode
Frost free freezer
Humidity control system
Ice boost mode
LED lighting
Open door alarm
Inverter controlled compressor
Soft-close doors
Adjustable shelves
Individually adjustable levelling feet
Sabbath mode
Smart touch control panel
Ultraslim water dispenser
Energy consumption: 661kWh /year
Energy rating: 3.5 stars / A+



Fridge compartment:

Adjustable door shelves: 6
Adjustable glass shelves: 3
Covered door shelves: 2
Deli storage bin: 2
Fruit and vegetable bins: 2
Spill-proof removable bins
Stackable bottle holders: 4



Freezer compartment:

Bottom freezer
Bottle chill
Built-in ice maker
Fast freeze
Ice bin and scoop
Small plastic bin: 2
Large plastic bin



Dimensions:

Product Dimensions (mm): H1790 x W900 x D695



Plumbing required if to fixing the water dispenser.
Large Flexible Space
This RF610ADUSX American size french door fridge freezer offers a large and flexible space to store your foods and drinks. It's a perfect refrigerator model that offering an incredible 541 litres of space storage for many households that looking for a fast-freeze, frost-free, easily organise and energy-saving fridge freezer of today.


ActiveSmart Foodcare Technology
ActiveSmart™ Foodcare means you have the refrigerator to learns from you by sensing how you use the fridge by self-adjusting the settings accordingly to your way of using the fridge. A range of luxury features combined with innovative design


Ergonomic And Simple Storage
Make for easy access and remove foods as you wish. It's also easily be removed for cleaning.


Ice Maker At Yours Convenient.
Clean, crisp ice cubes on demand as you wish in a dedicated freezer bin, with no impact on the useable space. You can boost ice production by up to 30%


Safe And Easy Cleaning
Secure and spill-safe glass shelving prevents drips and spills from falling on the food below.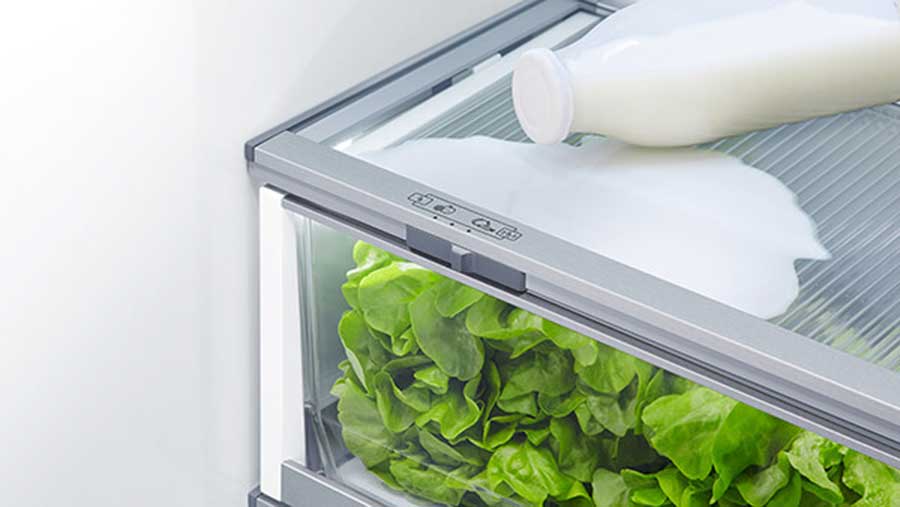 Fresh Water On Tap
You are now able to enjoy fresh and clean water by the touch of a button. The built-in slimline dispenser can cater to any sized jug or container.


Reviews (0)
view all
back