Fisher & Paykel RB60V18 60cm 2-Door Refrigerator (266L Full Integrated Bottom Mount Fridge-Freezer)
Price

RM7,700.00

RM8,600.00

Product SKU
RB60V18
Brand
Fisher & Paykel
Availability
In Stock
Quantity
Description
Highlight
* FREE delivery within Peninsular Malaysia



FISHER & PAYKEL RB60V18
60cm wide, ActiveSmart™ Fully Integrated 2 Doors Fridge Freezer
With its fully-integrated design, Fisher & Paykel RB60V18 tall refrigerator with bottom freezer, provide you with a perfect minimalist solution that enables you to maximise food storage capacity whilst minimising space for your apartments and houses where space is at a premium.

ActiveSmart™ Foodcare technology that applied in this refrigerator ensures your fridge operates in the most efficient way. The fridge is cooled according to how you use the product, saving you precious energy as your fridge customizes itself to your lifestyle.

3 adjustable door shelves, meaning you can now alter the position of the shelve to suit your needs to maximise the storage in small spaces.

The humidity-controlled crisper bins and the variable temperature drawer allows you fine-tune the fridge's climate to prolong the freshness of your fresh vegetables, fruit, fresh meat and dairy produce.

2 adjustable glass shelves, allows you to fully customise your refrigerator to fit whatever size containers you are using. Spill-safe feature for the glass shelves helps capture any drips and leaks to prevent them from falling on items below.
Specification:
Compartment volume: (Gross /Net)

Fridge volume: 186 /163 litres
Freezer volume: 80 /62 litres
Total volume: 266 /225 litres



Performance features:

ActiveSmart™ food care
Rapid cooling
Bottle chill mode
Fast freeze mode
Frost free freezer
Variable temperature drawer
Humidity control system
Holiday mode
LED lighting
Right hinged door
Open door alarm
Soft-close doors
SmartTouch control panel
Sabbath mode
Energy consumption: 372kWh /year
Energy rating: 3.0 stars / A++



Fridge compartment:

Adjustable door shelves: 3
Adjustable glass shelves: 2
Egg trays: 2
Fruit & vegetable bins
Four shelves (include above vegetable area)



Freezer compartment:

Bottom freezer
Freezer bins
Ice tray
Fast freeze
Large plastic bin



Dimensions:

Product Dimensions (mm): H1773 x W555 x D540
ActiveSmart Foodcare Technology
ActiveSmart™ Foodcare helps keep food fresher for longer by constantly maintaining the ideal temperature.


Flexible And Simple Storage
Simply pulled open the storage bins to access foods. It can be removed easily for cleaning and maintaining the cleanliness of the bin. You can adjust the top shelving in the main cavity to cater for the flexible storage options.


Rapid Freezing.
Feature to fast freeze foods by rapidly frozen it to the coldest temperature (-24°C) for 12 hours, ensuring the fresh food is retained in its freshness, taste and texture without worrying about defrosting your fridge because RB60V18 refrigerator has a built-in frost-free function.


Safe And Easy Cleaning
Secure and spill-safe glass shelving easily capture any drips and spills falling on the food and can be easily removed for cleaning.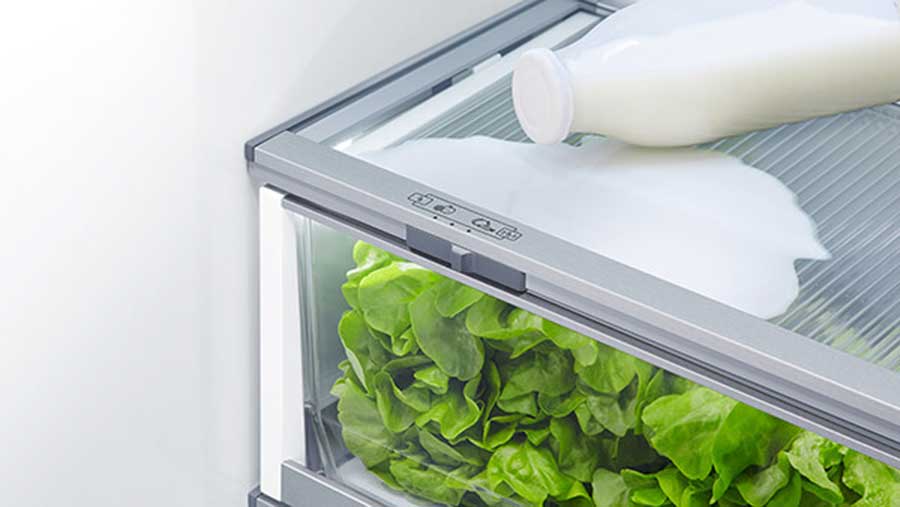 Variable Temperature Drawer
The adjustable multi-temperature drawers can be set to provide optimal storage for fresh meat, produce, deli and dairy products base on the ideal set temperatures. Designed to separately operate from the fridge and freezer, the drawer can be set at a temperature between -5°C and 3°C, with 3°C ideal for fruit and vegetables, -1.1°C perfect for fresh meats, and -3°C for fast chilling. Helping to keep your food fresher for longer.


Handsomely Designed To Fit
The Fisher & Paykel RB60V18 can be easily installed and integrated into any custom made cabinet of the modern design. This fridge and freezer are designed for any customised kitchen cabinet with the requirement of minimal gaps for adjustable door panels - a perfect match to the modern kitchen design of your choice.


Reviews (0)
view all
back